You probably own or run a business. It could be a brick-and-mortar shop or an online store. And you want to boost your revenue.
To do it, you are exploring the utility of mobile marketing. And why not? Mobile phones are one of the best ways to reach out to your target audience.
All thanks to the massive increase in global smartphone penetration. It went up from 59.01% in 2017 to 78.05% in 2020.
Similarly, access to high-speed mobile internet increased from 48.8% in 2014 to 62.5% in Jan 2022.
Both these factors indicate towards the huge potential that mobile marketing has. Hence, many marketers are looking forward to attracting their audience via mobile phones.
But here's a problem—it's not easy to tap into this opportunity. Here's why:
Say you want your audience to visit your website or watch a video online
To do it, you'll probably add the required link to your promotions
Your audience will see the promotion and the link
Then they'll pull out their smartphone to open the browser
Now, they will tediously type the entire link to see the target content
This is a long process. While some people may put effort into following it, others won't.
So, you need a solution that can help you offer a better user experience for mobile marketing. And QR Code technology can help you out here.
For the uninitiated, QR Codes are 2D barcodes that store alphanumeric information and are easily scannable with a smartphone.
With a single scan, customers can see the encoded marketing content seamlessly.
In this article, we'll see what exactly can you achieve with a QR Code.
A. How QR Codes are useful for mobile marketing
QR Codes can offer you high levels of customer engagement via smartphones. And here are some popular ways to go about it:
Say you are running print media promotions and want to get people to your website. It could be to evoke their interest in your business, show your product range, or make sales.
The best way to go about it is via mobile phones. That's because almost everybody uses one connected to the internet.
And to offer a hassle-free and easy experience, a Website URL QR Code will come to your rescue.
Here, your target audience will simply have to scan it with their smartphone to visit your website. Hence, they'll not have to manually type the web link. The easier the process, the better is the engagement rate.
Similarly, a Social Media QR Code can help you increase your following on social media. When scanned, people will see a landing page with buttons linking to all your social media accounts. They can then select their favorite one to follow you online.
2. Offering coupons and discounts
Nowadays, every business runs promotional campaigns by offering attractive offers. It can be offers and discount coupons. After all, they help you generate better sales. And if you're planning on using mobile phones to get the job done, QR Codes can help you again. How?
Just place a Coupon QR Code on the promotional materials such as flyers, brochures, or displays. When scanned, it will allow your target audience to easily access the encoded coupon code and redeem it. This will help increase the redemption rate too
3. Increase your mobile app downloads
If you have a mobile app for your business, you'd want people to download it. And to do that, the best way is through the smartphone itself.
Here, a QR Code can help you out. Simply add an App Store QR Code to your promotional materials. As the target audience scans it, it will redirect the end-users to your app on the relevant app store depending on their phone's operating system.
In addition, if you'd like them to visit a particular page in your app, you can go for an App Deep Link QR Code.
Related : How To Make QR Code For App Links
4. Generate leads
Since you want to try mobile marketing, why not generate high-potential leads? Lead generation is one of the most efficient ways to generate sales. And to collect leads via mobiles, QR Codes can lend you a helping hand. How?
They offer a feature called lead generation. When end-users scan the QR Code, they are prompted to fill out the lead generation form. Once they fill it, they can see the desired content. It could be text saying 'Thank You', a coupon code, or even a document (lead magnet).
Here's how this works:
You create the desired QR Code and enable lead generation with the information you'd like to collect. For example, name, phone number, email address, etc.
You add this QR Code to the billboards, flyers, and other marketing materials
Your audience sees the QR Code on the billboard and scans it
They see a form with the fields specified by you
Once they fill out the form, they submit it to see the content encoded in the QR Code
You can access these leads anytime you want via your QR Code service provider. Easy, right?
5. Help people know your business' exact location
Want to get your target audience to visit your store? You'd need to tell them where you're located. And this doesn't end with simply adding your address to the marketing communications.
With them, people will still have to locate your address on their phone's maps application to reach you. Rather, a Google Maps QR Code can help you out. How?
When scanned, it takes the end-users to see the encoded location on their phone's maps application. No manual effort is needed for anyone to manually locate your business or ask for directions.
As a business person, you know how important it is to share your contact details with your potential customers. After all, that's how they can contact you whenever they require your services.
And a VCard QR Code helps you to do it. How? Just place it on your promotional material or business cards.. As people scan it, they'll see all your contact details. It could be your name, contact number, email, address, website, and even your social media handles. Along with these, they also see the option—Save as Contact.
That means they can save you as a contact with a single click. That's it. No need for them to manually type your details to add you as a contact. Convenient, right?
Since it's convenient, the chances of them actually saving as a contact will also increase.
7. Provide product information
You know limited printing space on product packaging always keeps you from providing complete information. This creates a roadblock in ensuring product transparency. But don't worry. This is where QR Codes come into the picture.
Just add a Product QR Code to the product packaging. It allows you to add as many details including product description, images, video, website, and even social sharing buttons.
When customers scan it, they'll be able to see all the details on their smartphone. Quite easy, right?
8. Digital mobile-optimized landing page
Do you know QR Codes can help you create a mobile-optimized landing page? This can be useful if you don't have a website for your business.
Here, you can create a Rich Text QR Code. As your customers scan it, it will display a customized landing page with descriptions, images, buttons, etc. And the best part is that you don't need to hire a developer to get the job done. You can do it yourself in minutes.
B. Examples of QR Codes for mobile marketing
In case you're wondering if QR Codes are even being used for mobile marketing or not, here are some examples:
1. Cornitos
Cornitos Nacho Crisps added a QR Code to their product packagings. When scanned via smartphones, it redirected customers to see the complete Cornitos product range.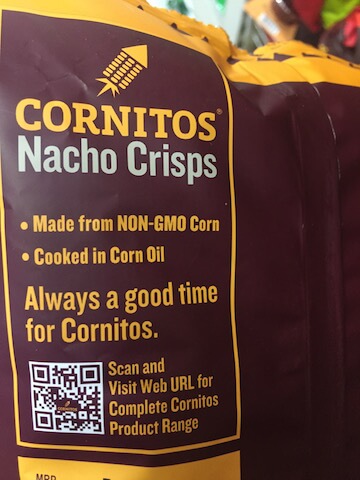 2. Victoria's Secret
In 2012, Victoria's Secret, an American premium womenswear and beauty products manufacturer, used QR Codes on billboards. With these QR Codes, they wanted to encourage people to scan and view the brand's latest lingerie collection.

3. Myntra
Myntra, an eCommerce website has also used QR Codes on product delivery packages. These QR Codes, when scanned, redirect the customer to a coupon. These coupons act as an incentive for customers to get a discount by purchasing with Myntra.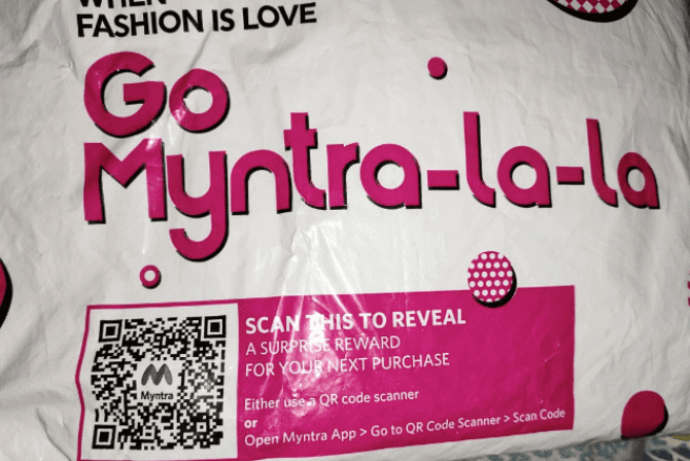 4. Confluence
Confluence, a remote-friendly team workspace, is also promoting its mobile app via QR Codes. They have added an App Store QR Code to their website. They're using it to drive users to their mobile app according to the mobile's operating system.

5. Aarogya Setu
Aarogya Setu, an Indian COVID–19 contact tracing digital app, has also leveraged QR Codes to drive web traffic to its mobile app. This way, citizens can easily avail of its services anytime and anywhere via their smartphones.

6. Tesco
In 2011, Tesco used a big screen displaying a wide range of products. And a QR Code was placed next to each product.
Here, customers could come and scan the QR Code next to the product they wanted to purchase. Once scanned, products were being added to the virtual cart in the Tesco Homeplus app on their phones. These products were then delivered to the customer's doorstep.

C. How to create a QR Code for mobile marketing
Now you know how QR Codes are useful for mobile marketing. The next question—how to create one?
1. Decide on your QR Code category
You need to select the right QR Code category depending on what you'd want your end-users to see.
For example, if you'd want to redirect them to your website, you'd need to create a Website URL QR Code. But to give them discount coupons, you'd have to create a Coupon QR Code.
Once you have decided on the QR Code category, you can head on to your chosen QR Code generator. In case you haven't chosen one, here is a detailed comparison chart on the best QR Code generator available online. You can go through it to make a sound decision.
2. Create a QR Code
Using Scanova QR Code generator for a demo, here is how you can create a QR Code for mobile marketing:
a. Go to Scanova
b. Select the most relevant QR Code category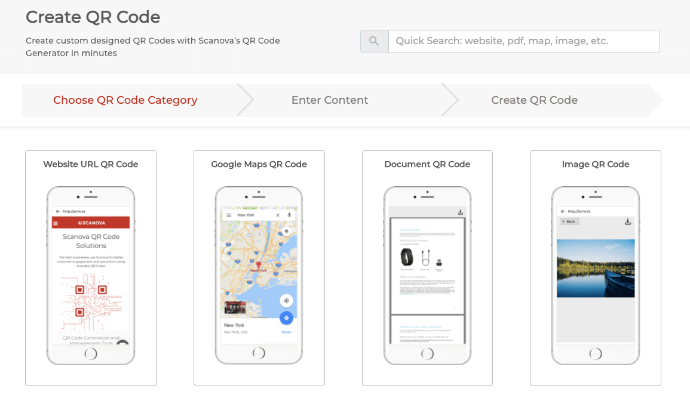 c. On the page that loads, add the content you want to encode in the QR Code and click Continue
d. Name the QR Code and click Create QR Code
e. Now, you'll see the preview of the QR Code on the right. Under it, you'll see the Edit Design button. If you click on it, you'll see two design options—Custom Logo Design and Custom Background Design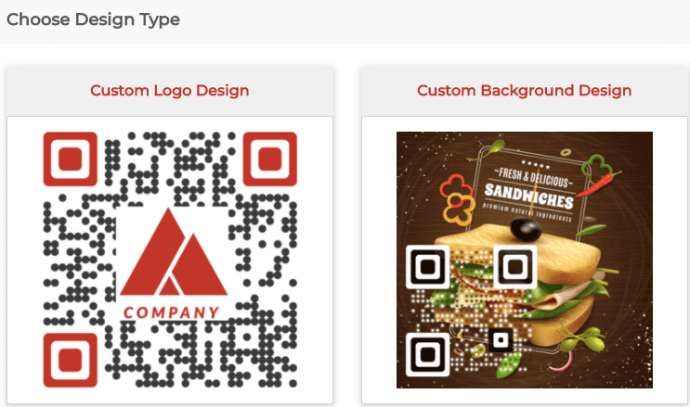 Custom logo design allows you to add your business's logo and colors to the QR Code. On the other hand, custom background design helps you place your QR Code on any image.
f. Once you've decided on design or no design, Update the changes and click Download. A window will open, prompting you to sign-up for a 14-day free trial. Once you've signed up, proceed to download the QR Code
g. Now, you'll be asked to specify the QR Code image's format and size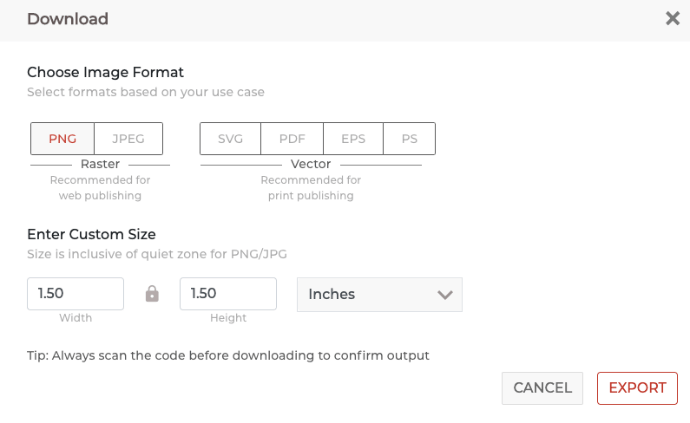 h. Specify these details and click on Export
That's it. Your QR Code will be downloaded. It is always advisable to test scan the QR Code before putting it out for the target audience.
That is all you need to know about how QR Codes can be used for mobile marketing. You can now create your own QR Code to attract customers' attention and boost your business.
[cta1 caption="Boost Business Via Mobile Marketing" content="Get started with your first QR Code" buttontext="Create QR Code Now!" destination="https://app.scanova.io/qr/create?utm_source=dk_pr_qr-code-mobile-marketing_cta&utm_medium=blog&utm_campaign=content"https://scanova.io/blog/wp-content/uploads/2016/12/qrcode-8.png"]