Updated: Apr 09, 2020: You know what is a QR Code is and what is it used for. It is a 2D barcode that stores information including text, numbers, and URLs.
Hence, you see them being used for many use cases. Some of the most common among them include—payments, promotions, and inventory management.
You have encountered situations where scanning a QR Code will make the task easier for you. For example—at the grocery store where a QR Code is kept at the billing counter for bill payment. Here, scanning it helps you make payments seamlessly without using your card.
So you want to know how to scan a QR Code and which QR Code scanner is the best. In this article, we will tell you everything you need to know about it.
A. What do I need to scan a QR Code
There are two main things you need to get the job done here:
1. A camera-enabled smartphone
You know how a barcode is scanned. A handheld scanner is held in front of it for 2-3 seconds. And it decodes the hidden information.
Similarly, a QR Code needs you to point a scanning lens (camera here) in front of it for 2-3 seconds.
The lens reads each and every dot and eye present in the QR Code and decodes the information in them. And shows it to you.
2. Access to the internet
Though you can scan a QR Code without internet access, you'd mostly need it to further access the encoded information. Not sure what it means?
If you scan a QR Code at a grocery store to make a payment, you'd need internet access to proceed. That's just how online payments work after all.
Hence, for QR Codes that have a link encoded, you will need the internet to visit the link. And most QR Codes that you come across store URLs.
Only the static QR Codes that have text encoded, allow you to see the content without the internet. However, they have limited functionality. Hence, are not widely used. Most of the QR Codes you come across have URLs. Hence, need you to connect to the internet.
Since access to high-speed internet and smartphone penetration has increased sharply over the last decade, QR Codes have picked up well.
B. How to scan a QR Code
You know the two basic requirements for scanning a QR Code. But that's not all it takes.
To scan a QR Code, your smartphone must have an in-built QR Code scanning feature. Even if it doesn't you can still install a relevant scanning app and you'll be good to go.
1. In-built QR Code scanner
Everyone needed to install a QR Code scanning app may be back in 2012. But it is not the case in 2020 anymore.
Due to the rapid use of QR Codes in China and South-east Asia, QR Code scanning increased widely. And users had to install a third-party app to do the job.
To help them do away with it, manufacturers have started adding the in-built scanning feature to their phones. These include both iPhone and Android devices.
So many users don't really need to install any third-party application for the same.
You might think—how do I know if my phone has this in-built feature?
You can do it in a few simple steps. Here is what you need to do:
1. Open your phone's camera
2. Hold it in front of the QR Code for 3-4 seconds
If a pop-up appears showing some text, your QR Code has been scanned. Here's what it will look like on an iPhone: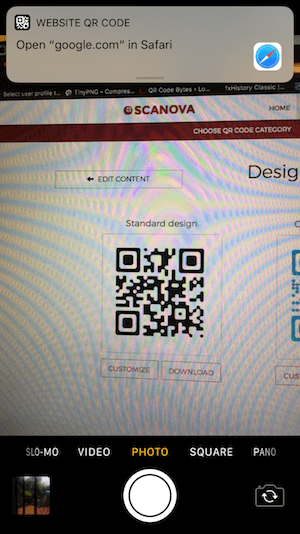 That simply means—your phone has an in-built QR Code scanner in its camera. Quite simple, right?
So we can safely say that scanning a QR Code is as easy as taking a photo, isn't it?
Here's a list of smartphones that have this in-built feature:
iPhone
Motorola
Xiaomi
Lenovo
Micromax
Samsung
Huawei
iPhone rolled out this feature in Sep 2017 in its iOS 11 update: Apple added an inbuilt QR Code scanner feature to its stock camera app.
2. Popular apps with QR Code scanning feature
It's great if your phone already has an in-built QR Code scanner. In case it doesn't, you can still scan a QR Code easily. How? With some of the pre-existing mobile apps on your phone.
Yes, many popular mobile applications such as Snapchat, Paytm, and Pinterest help you do it. They do away with the need to install any additional app to scan a QR Code.
Here's a list of some of these apps:
Google Now on Tap
Bing Vision Lens
So if you have any of above apps, you don't need to download a dedicated QR Code reader app.
Simply open the app, launch its scanner, and hold it in front of the QR Code. And it will be scanned in no time. Here's how it'll look like with Snapchat: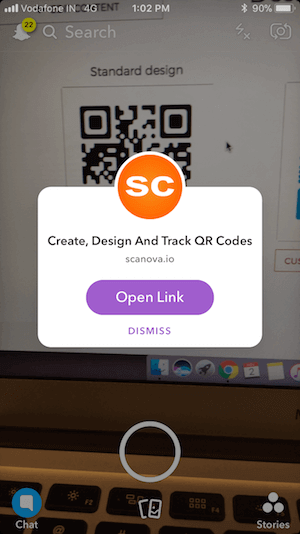 3. Mobile Browser Apps with QR Code Reader Feature
Even if you don't any of the apps mentioned above, you probably have one of these mobile browsers installed on your iPhone or Android device:
These mobile browser apps also come with a QR Code scanning feature. No need to download a specific app.

Related : How To Make QR Code For App Links: Everything You Need To Know
4. Free QR Code Scanner Apps for iPhone and Android
If options 1, 2, and 3 didn't work for you, you can always download a free QR Code scanning app for your iPhone or Android device.
There are many of them available on the app stores. And in this article, we will help you shortlist the best one.
C. QR Code Scanner free
It is a good scanner application with high detection accuracy. This app has an additional feature that allows you to scan a QR Code image stored in your photo gallery.
This feature is especially useful if you need to scan a QR Code that you have received on your phone.
It does the job well and has a good UI. You can even zoom-in or zoom-out to make the QR Code fit in the scanning lens.
Here is how it shows you the encoded content on scanning the QR Code.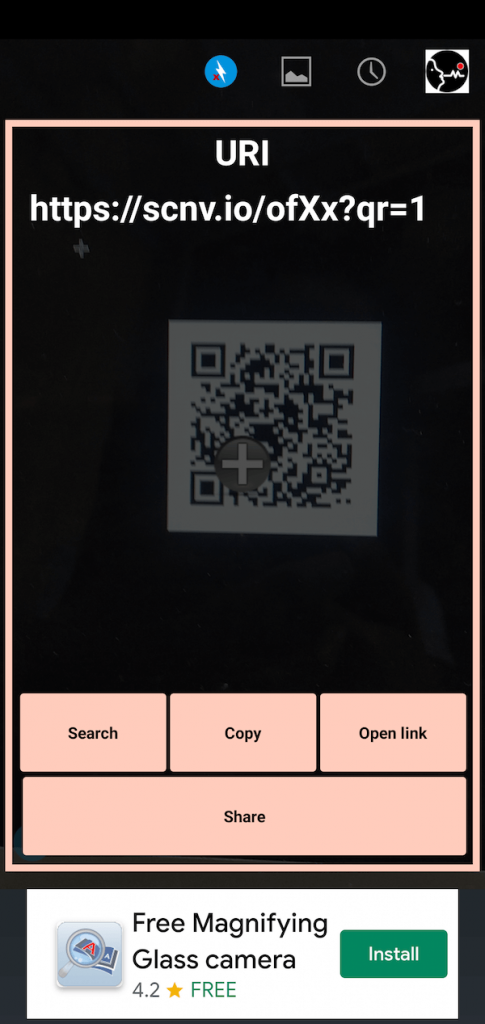 2. Kaspersky QR Scanner
Kaspersky brings a new twist to QR Code decoding – enhanced security. The app will be able to tell if a QR Code has a malicious link or not, making sure that you view reliable content only.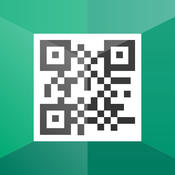 Available for iPhone and Android.
3. Quick Scan – QR Code Reader
This free QR Code scanner app by iHandy has seen recently seen a major update that has pushed the app into the league of top scanning apps.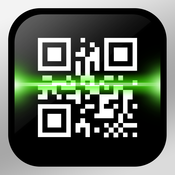 Available for iPhone and Android.
4. QR Reader for iPhone/Android
Another gem on the App Store. Allows you to scan even the toughest designer QR Codes.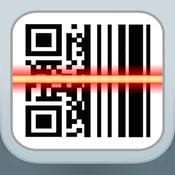 Available for iPhone and Android.
5. QR & Barcode reader
This one is another popular and excellent QR Code scanning app. And it does not only scan QR Codes but also scans barcodes, data matrix, Aztec, UPC, EAN, and many more types of codes.
It also allows you to scan a QR Code image saved in your gallery. And it also offers the flashlight feature to help you scan QR Codes in dark environments.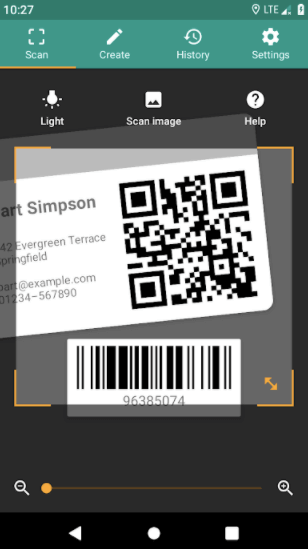 That's it. Using any of the options above, you can easily scan a QR Code to view its content. Start scanning now.
E. QR Code scanning best practices
To ensure a smooth scanning of the QR Code, you must make sure you take care of these two factors:
1. Ensure that QR Code fits into the scanning lens
When you point the camera in front of the QR Code to scan it, make sure it fits well into the lens.
That means you should neither be too close nor too far away from it. Only when all the dots (data matrix) and eyes fit into the frame well, QR Code will scan smoothly.
2. Take care of sufficient lighting
As we discussed, a scanner needs to read each and every dot and eye of the QR Code. Only then is it able to decode the content hidden in it.
Hence, make sure the QR Code is in sufficient lighting environment to scan it. In case you're in a dark room, you can use the scanner's flashlight to do it.
That's it. Now you know all about QR Code scanners and how to scan a QR Code. In case you still have any queries, let us know in the comments.