Say you are a food production company that deals in packaged foods such as tinned vegetables, aerated drinks, or chips and candies. And you know how important it is to offer good quality products and assure customers of their quality.
To do it, you not only need to follow best food practices but also ensure transparency to customers. But the question is—how? Well, by providing the product details to your customers. And to do it, you'll have to add the required details to the product packaging. But here's the problem—it's not possible to add every detail to the limited printing space of the packaging.
That's why many manufacturers, despite an intent to be transparent, struggle in doing so. But QR Codes can solve the problem for you.
For the uninitiated, QR Codes are 2D barcodes that can store a lot of information and can be scanned with a smartphone.
In some geographies, the regulatory authorities, in fact, have mandated the use of QR Codes on food labels.
Keep reading to know how a Food QR Code can streamline your entire business.
A. What is a Food QR Code and how you can use it
A Food QR Code helps you ensure transparency to your customers. It helps you overcome the barrier of limited printing space on product packaging.
In fact, it helps you do a lot more than just providing the manufacturing details or product specifications. Here's a list of interesting things you can do with a Food QR Code:
1. Provide product information
As discussed earlier, limited printing space on food packaging keeps you from ensuring product transparency. But don't worry. This is where QR Codes come into the picture.
Rather than printing all the details, you can add a Product QR Code to the food packaging. It allows you to add as many details including product description, images, video, website, and even social sharing buttons.
When customers scan it, they'll be able to see all the details on their smartphone. Quite easy, right?
2. Download your food ordering app
Do you have a mobile app for your business? It could be to help customers order your products online. Then you'd certainly want to get people to download it.
An App Store QR Code can help you do it seamlessly. Just place it on your promotional materials or even your product packagings. And make sure you add an appropriate instruction (CTA) such as 'Scan here to download our app today'.
When end-users scan it, they'll be taken to your app on the appropriate App Store as per their device's OS. No need for them to tediously look for your app manually. And the simpler the process, the higher are the conversions (app downloads here).
3. Manage your inventory
Inventory management is an important part of the food business. It does not only help you ensure smooth logistical operations but also make sure the food is moved around well before it reaches the expiry date.
And you probably use barcodes for inventory management purposes. But barcodes pose various challenges of their own:
a. They store limited information
b. You need dedicated hand-held scanners to scan the barcode
c. Barcodes do not get scanned once damaged (which is quite common during inventory handling)
d. You cannot edit them with new information once you've created them

However, QR Codes are next-gen 2D barcodes. They overcome every barrier posed by the barcodes. Hence, they are replacing barcodes for inventory tracking.
You can use a bulk QR Code generation service to create QR Codes for your inventory. Or, if you have an information system, you can use QR API to integrate automatic QR Code generation into it. It'll help you generate QR Codes in real-time without any manual intervention.
4. Offer coupons and discounts
Discounts and coupons are an excellent way to boost your business by acquiring new customers or via repeat purchases.
And QR Codes have been helping food businesses do it smoothly. How?
By simply adding a Coupon QR Code to the food packaging or promotional materials. When customers scan it, they'll see the coupon details with an option to redeem it. That means no need for them to remember or type the coupon code themselves. All they need to do is—scan the QR Code and redeem the coupon.
5. Send food festivals invitations
Say you are organizing a food festival event and need to inform your audience about it. You'd run promotional campaigns to the needful.
And an Event QR Code can help you do just that. It helps you share event details such as venue, date and time, description, images, video, and even social sharing buttons.
When end-users scan the QR Code, they'd see all these details. In addition, they'd also see a button to RSVP and confirm their presence to help you make better arrangements. No need for them to send you elaborate emails.
That means complete event information via a little printing space. Isn't that amazing?
Want your customers to stay connected to you even after tasting your food? Then get them to follow you on social media or your website.
But we're not talking about simply telling them about your social media handles and hoping that they would follow you. You can rather put a Social Media QR Code on your food packagings or promotional material.
When scanned, it will show the buttons to all your social media platforms such as Facebook, LinkedIn, and Twitter. End-users can then select their favorite platform to follow you online.
Similarly, you can also get them to visit your website with a Website URL QR Code. As one scans it, he will be redirected to the encoded URL. Hence, it eliminates the need to manually type the URL to visit a website.
7. Offer food recipes or instructions
It is very common to share food recipes with your products, especially from celebrity chefs. And to do it, you'd like to add a textual recipe, a video, or even an infographic. And QR Code makes it simpler for you.
Just create the QR Code by adding the required content and place it on the food packaging. Your customers can scan it to access the encoded content.
8. Collect customer feedback
You probably know how important getting customer feedback is. It helps you analyze and identify whether your customers are enjoying your food or not. Hence, it helps you identify areas of both strength and improvement.
But getting customers to submit the feedback form is not easy. People have to open their phones, manually type the form URL to access it, and finally fill the form.
Don't worry. QR Codes have got you covered. You can create a survey QR Code and fetch feedback from your customers. They simply need to perform a simple scan to access the form. Simple, right?
9. Raise awareness for a noble cause
Want to raise awareness about your concerns or initiatives and get people to visit your website? A Website QR Code can help make it easier for your target audience to visit your website.
But what if you don't have a website? Don't worry, you can still create a mobile landing page with all the details you want. And the good news is that you don't need to hire a website developer to do that. A Rich Text QR Code helps you do it easily.
When scanned, it shows a mobile-optimized web page containing all the information. It can be anything such as description, buttons, and social media sharing buttons.
B. Examples of companies using Food QR Code
1. Cornitos
Cornitos Nacho Crisps added a QR Code to their product packaging. It leads consumers to see the complete Cornitos product range upon scanning the QR Code.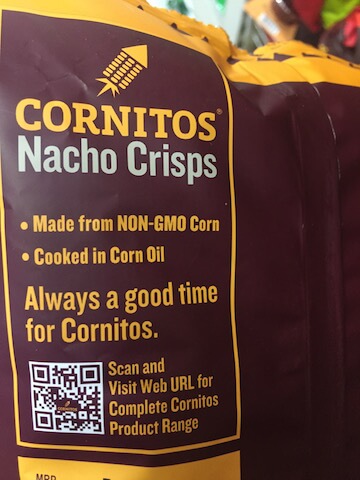 2. Amul
Amul, an Indian dairy brand, also uses QR Codes on its dark chocolate product packaging. When scanned, it redirects them to Amul's website to learn more about the brand and its offerings.
3. Tata Tea
Tata Tea, a popular tea brand in India, added QR Codes on its packaging for a noble cause. When scanned, it redirected the end-users to its 'Jaagore' Consumer Rights campaign.

4. Nestle
In 2015, Nestle's instant noodles brand Maggi was nationwide banned by the Food Safety and Standards Authority of India (FSSAI). It was claimed that the noodles contained impermissible levels of lead.

However, soon the ban was lifted. And Nestle decided to use QR Codes to give the product's nutritional details to the customers. When scanned, it took them to a mobile page containing all the nutritional information, product source, and various recipes for customers to try. It also talked about the Nestle community, the company, and responsible sourcing.

5. Languiru
Languiru, Brazil's second-largest dairy producer, also uses QR Codes on their products to improve product traceability.

6. Chef's Basket
The packaged food company Chef's Basket also added a QR Code on the packaging of one of its pasta products. Upon scanning the QR Code, consumers were redirected to a video of the recipe of the pasta dish.
C. How to create Food QR Code
Now you know how a Food QR Code can benefit your business in several ways. The next question is—how to create one for your use case?
1. Decide on the QR Code category
Depending on what content you want the end-users to see on scanning the QR Code, decide on the QR Code category.
For example, if you want to provide detailed product information, you'd need a Product QR Code. On the other hand, if you want the end-users to install your mobile app, you'll have to create an App Store QR Code. Here's a list of categories that you can choose from.
Once you've decided on the QR Code category, head on to find a suitable QR Code generator. You can also refer to this detailed comparison of the best QR Code generators available online. It'll help you make a sound decision as per your requirements.
2. Create a QR Code
Using Scanova for demo purpose, here's how you can create a Food QR Code:
1. Go to Scanova
2. Select a relevant QR Code category
3. Now add the content you want to encode in the QR Code and click Continue
4. On the page that loads, name the QR Code and click Create QR Code
5. Now you will see the preview of the QR Code along with the Edit Design option
6. If you click on this option, a window will pop up with two design options—Custom Logo and Custom Background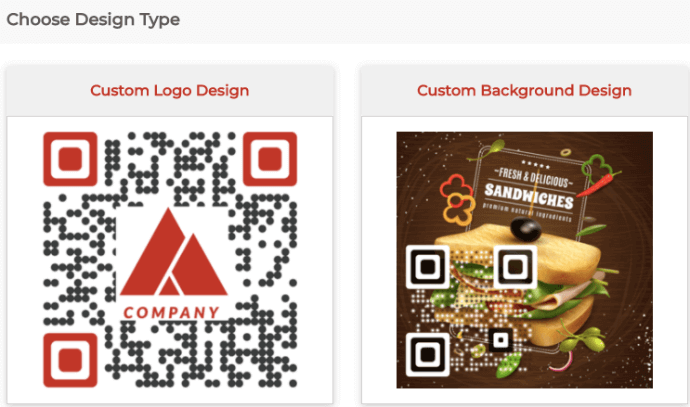 Custom Logo Design: It allows you to add a logo and color to it. Logo can either be an image or a text.

Custom Background Design: It allows you to add an image as the QR Code's background. It also allows you to change the pattern of QR Code eyes and data modules.
7. Once decided on the design, click on Download
Note that a window pop-up will appear prompting you to sign-up for 14 days free trial. Once you sign-up, proceed to Download your QR Code.
8. Next, specify QR Code's image format and dimensions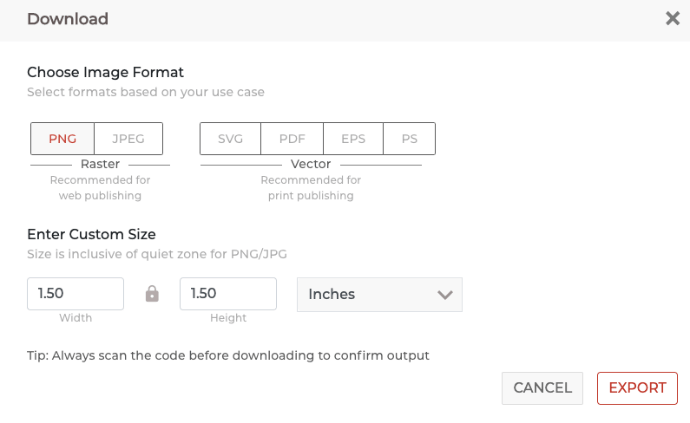 9. Once you specify these details, click on Export
That's it. Your Food QR Code will be downloaded. It is always advisable to test scan the QR Code before rolling them out.
That is all you need to know about how QR Codes can be used in the food industry. You can now create your own Food QR Code to revamp your business and offer your customers a hassle-free transparent experience.
[cta1 caption="Boost your conversions" content="Get started with your first QR Code" buttontext="Create QR Code now" destination="https://app.scanova.io/qr/create?utm_source=dk_pr_food-qr-code_cta&utm_medium=blog&utm_campaign=content image="https://scanova.io/blog/wp-content/uploads/2016/12/qrcode-8.png"]