You are working in the design industry either as a freelancer or an advertising agency. And as a part of this industry, your motive is to enthrall the target audience with your design.
And given your field in designing, you do face a couple of challenges.
As a graphic designer, you are constantly devising ways to be unique. That is, you struggle for ideas, which are modern, tech-savvy, and sustainable.
As a product designer, you not only want to make your product attractive but also transparent in terms of information. But due to limited space, doing this becomes a challenge.
Working as an interior designer, your aim is to make your clients awe-struck. That is, you are looking for innovative ideas, which will make you stand out. Plus, the problem of counterfeiting and plagiarized design ideas is on a rise in your industry.
And if you are a website designer, the major challenge you face is packing more information in less space. Your aim is to make a website impressive rather than overwhelming.
So, given the design area you expertise in, you are desperately looking to resolve these challenges.
And with QR Code technology, you can make your piece of work engaging, interactive, and visually appealing. And the best part is that top designers across industries are already using it.
Keep reading.
A. What can a QR Code do
QR Codes are advanced barcodes that are easily scannable via a smartphone. They are easy to create and use. Plus, QR Codes are pervasive almost in every industry today— cosmetics, finance, sports, energy, tourism, automobiles, amongst others.
Here are the reasons of why you should use QR Code in design industry:
1. Make your project high-tech
You obviously wish to make your project technology-friendly. And want to catch the user's attention. And QR Codes are not only tech-savvy, but are also an actionable solution.
That is, with QR Codes, you can link any amount of details—both text-based and multimedia content. That is, you can add information such as a website URL, a video link, social media account links, or an image in a QR Code.
For example, you can add a QR Code on your product packaging design to give information on GMO ingredients to your customers.
2. Place QR Code anywhere
QR Codes are small in size and occupy less space.The information in a QR Code is added to the data modules. Hence, a QR Code doesn't expand vertically when more information is added.
This is especially true for dynamic QR Codes that are both editable and trackable.
So a QR Code occupies less space due to their small size.
3. Add more colors to your project
You can add design to a QR Code and itself make it into an art piece. For example, you can add a logo, change the background color, or add a background image. And this way, make your QR Code completely branded.

So use of QR Code in design industry for your project will make it more attractive.
For your reference, here is a detailed guide on how to create custom-designed QR Codes.
4. Tackle plagiarism with QR Codes
You can secure your work in a QR Code by adding a password to it. And you can share this password only with people you want to. Upon scanning, the end users will have to enter the password to be redirected to the target content.
So with an encrypted QR Code in design industry, you can make sure your work is not plagiarized.
Now you know why QR Codes are a worthwhile option. Here is a universal use case, which can be applied across different areas in design industry:
QR Code on design portfolio
When a client approaches you for work, you show them your portfolio. But since it may be heavy, it becomes difficult to carry around. So in case you do not have an online portfolio, you can upload your design images on a cloud server and generate a link.
And then encode this link in a QR Code. Now you just need to print the QR Code and hand it over to your clients. Just one scan, and they can see how great your designs are.
Now let's move ahead to know area based use cases of QR Codes in design industry.
Related : QR Code For Link
B. QR Code use cases
This section will detail the use cases of QR Code in design industry in four main design sectors: Graphic, product, website, and artists.
1. Website designers

Website designers can use QR Codes for the following purposes:
a. To provide more content
Making the website look congested and dull will be the last thing you'd want to do. After all, you would like to keep the information crisp on the website.
Plus, when the amount of data on a website increases, so does the probability of bugs.
Hence, if you want to provide detailed information, but cannot add it to your website content, use a QR Code. And then place it on your website. Plus, do not forget to add a help note such as 'Scan for more information'.
This way, you will relay all the information to the visitors. And also make your website look impressive.

By placing a QR Code on a blog or an article, you can make sharing easy and effortless. All you need to do is— link the QR Code to the respective article.
If the readers want to share the article, they can easily scan it and get the link. And not take the burden of first logging in, to share the article. This will enhance sharing especially if the article is being read on a desktop.
See here is how tech-giants are using it:
i. Google
Google Chrome is planning to come up with QR Codes, which will allow page sharing. This feature was spotted in Chrome Canary named as 'Enable sharing page via QR code'.
With this feature, it will become easier for you to share pages.
2. Product Packaging Designers
With QR Codes, you can give more transparency to your product. Here is how:
a. Provide more product information
You have to design a product's packaging keeping in mind the limited printing space. But that doesn't mean you need to cut down on the details to be added to the product. This is where a QR Code comes into the picture.

You can create a QR Code with details such as precautions to be taken, terms and conditions, and ingredients used. This will keep your customers fully aware of your product.
And the more transparent you are, the better are your chances of building customer loyalty.
For example, the federal law of the United States Department of Agriculture has made it mandatory to provide GMO information on products. So, as a product packaging designer in the F&B industry, you can use a QR Code for this purpose.
Also read: QR Codes in product packaging design.
b. To show interesting videos
Just like providing detailed content, you can also link videos to the QR Code. And add it to your product. For example, as a designer of machinery, you can show how particular machinery was actually made.
i. Nestle
The food giant, Nestle, has included QR Codes on its product to promote transparency. Upon scanning, the customers can get detailed information such as quality control, production supply chain, and even the variety of potatoes used.
" We are using this technology to bring more transparency to our products by providing accurate information. They will benefit the whole value chain, including retailers and consumers."
—Vineet Khanna, Global Head—Supply Chain, Nestle
ii. Barilla
Barilla, a famous name in the F&B industry, has printed QR Codes on its products. Upon scanning, consumers can get information on where all the ingredients came from. Besides, they can get details on when, where, and how each ingredient was procured.
3. Artists and Graphic Designers

As a graphic designer, you can invest in a plethora of ideas with QR Code in design industry such as:
a. For an interactive interior designing
Say you are an artist and you have taken up a project to design wall mural for a theatre.
Obviously, you will work your best to give a spectacular design to your client. But you can also go a step ahead. How?
You can add a QR Code to this wall mural.

When scanned, it will ask the audience to submit their feedback on the show.
b. To design personalized gifts and cards
If your client wants a personalized gift, you can propose QR Codes as one of the elements on the card.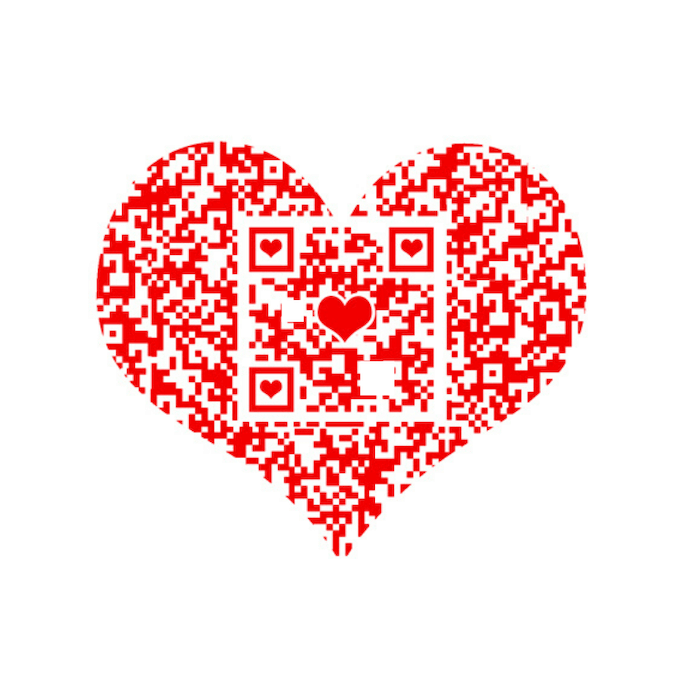 That is, with QR Code you can design customized gifts by asking your client to:
Once a QR Code is created, you can then print it on the card you are designing.
Did you know that QR Codes are frequently used to design personalized Valentine's day gifts and wedding cards?
b. Print QR Codes on t-shirts
You can design QR Code based t-shirts to make your clothing eye and camera catching! That is, you can link your website in a QR Code. Or your app link.

Besides you can encode some interesting facts about the clothing item you are selling. For example, you can provide information on what to pair with the item one has selected in order to cross-sell.
Here is an example:
I. Florida, America
Students in Parkland, Florida designed t-shirts with a QR Code on American flag. Upon scanning this QR Code, the users were directed to an online voting registration platform.
This way, the citizens could easily register to vote in the November 2018 midterm elections.
So, now you know how QR Code in design industry can add to more hues to your design projects. Create QR Code now to impress your clients better.
[cta1 caption="Create QR Code for your company" content="Generate a visually-appealing QR Code to engage audience better" buttontext="Create QR Code Now" destination="https://scanova.io/design-qr-code-generator.html?utm_source=smb_sd_qr-codes-in-design-companies-bod&utm_medium=blog&utm_campaign=content#/create/url" image="https://scanova.io/blog/wp-content/uploads/2016/12/qrcode-8.png"]