QR Codes are a common sight now. Thanks to the increase in global smartphone penetration that went from 59.01% in 2017 to 78.05% in 2020. And access to high-speed mobile internet increased from 48.8% in 2014 to 62.5% in Jan 2022.
In addition to this, internet users have grown by 4% from Jan 2021 to Jan 2022. Here, 92.1% of device ownership belongs to mobile phone users.
These factors have led to the massive adoption of QR Codes. Hence, from product packaging to the walls of buildings, QR Codes are everywhere.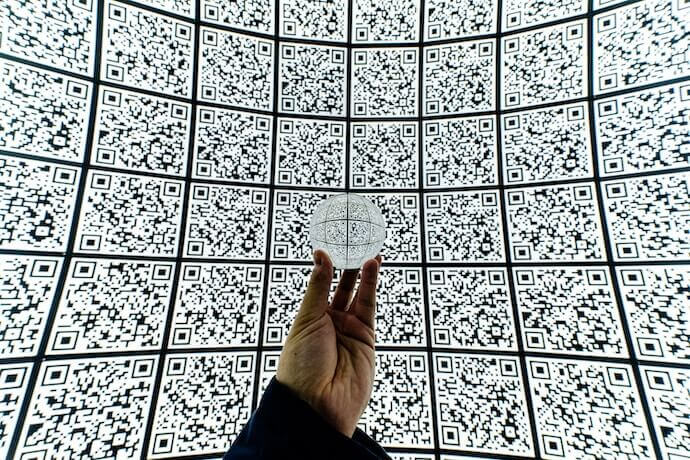 We earlier showed you if people use QR Codes or not. From this, it is clearly evident that the use of QR Codes is soaring day by day. However, you might think—what is the QR Code usage in exact numbers? What are the actual QR Code statistics?
Here is a short video to give you a snapshot of QR Code statistics:
If you're reading this, you know that publically available statistics on QR Code usage are very low. However, here is a compiled exhaustive list of data points available via research reports and databases.
QR Code Statistics—Global and the US
In 2014, Adobe Systems conducted a study on QR Code usage over a period of three months. The study covered four countries—Germany, France, the UK, and the US.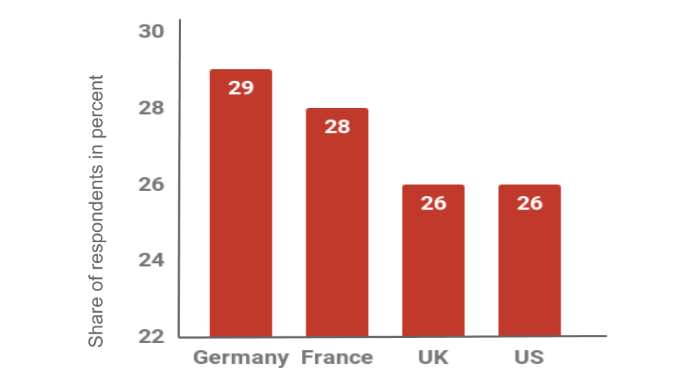 Of the total participants from Germany, a good 29% had used a QR Code. This number was 28% for France, and 26% for the UK and the US.
Hence, we can safely say that in general, 25-30% of populations in developed nations use QR Codes. And this was back in 2014. The usage has massively changed since then.
In 2019, Global Web Index conducted a study. This study showed the Global percentage of QR Code users. They were as follows:
8% in North America
13% in Latin America
15% in the Asia Pacific
10% in Europe and Middle East Asia
US
According to a recent survey by Statista, in the US alone, an estimated 11 Million households were forecast to have scanned a QR Code in 2020. This would have meant an increase from an estimated 9.76 Million scans in 2018.
Here is a graph showing that more and more households are scanning QR Codes in the USA each year: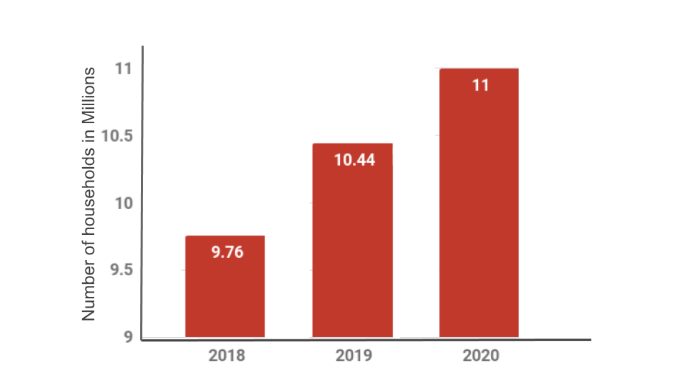 And this was the scenario before COVID hit the world. The pandemic has opened doors to massive success for touchless technologies. QR Codes are being of the leading player for this achievement. Contactless commerce is expected to pick up a rigorous pace. As per a report by Gartner, 80% of the order, checkout, and payment services will become contactless by 2024.
US and UK
In September 2020, Statista conducted a survey. It was about the increase in QR Code usage since shelter-in-place. The survey included participants from both the US and UK. Among the respondents, 46.75% agreed on an increase in QR Code usage.
Another survey was conducted in the same month with the respondents from the two regions. It enquired them about the most secure location for scanning the QR Code. A good 42.55 % felt most secure at a restaurant, bar, or café. On the other hand, 19.4 % felt the same level of assurance at a gym, pool, or any other fitness center.
Hence there is a huge potential for US marketers who are considering adding a QR Code to their print media campaigns. (Also see how Latin America is using QR Codes.)
Not only the US but also countries such as Canada, Indonesia, Malaysia, Singapore, Hong Kong, Thailand, France, Switzerland, and Australia use QR Codes widely.
Russia
In September 2020, Statista conducted a survey with Russian participants. It was to gauge their support for various measures taken to tackle the coronavirus. According to it, 64% supported the introduction of the system with passes, QR Codes, and other similar movements within the system. This clearly indicates that the Russians have not only become more receptive to QR Codes but are supporting them too. This throws the doors open for the adoption of QR Codes for a wide array of use cases in the country.
Middle East and Africa
QR Code usage is also seeing a surge in the Middle East and Africa. How? Well, because it went from 12% in 2017 to 18% in 2018. And the figures have only blown up post-pandemic.
Europe
In September 2020, the MobileIron poll conducted a survey. The survey included consumers across Germany, the U.K, Netherlands Spain, and France. Among the respondents, over half of the respondents (54%) agreed to have seen the increase of QR Codes. This was since the pandemic began.
The same study also shows that two-thirds of respondents (67%) agreed upon the fact that QR Codes made life easier. Moreover, over half of the respondents (58%) said they want to see QR Codes being used more broadly in the future.
This data shows the growing momentum of QR Codes in Europe.
The surge in QR Code Usage
According to Bluebite, the following surge in QR Code usage was reported from 2018 to 2020:
96% growth in QR Code Reach
94% surge in the number of interactions
98% increase in the number of interactions per object
This data clearly conveys an increase in QR Code usage over the years.
The growth in the number of interactions per object is even more interesting. It means that people are scanning the same QR Code more than once. This speaks for the usefulness and users' confidence in QR Codes.
According to Juniper Research, by 2022, 5.3 billion QR Code coupons will be redeemed via smartphones.
QR Code use cases and usage distribution by age group
You might think—what use cases are QR Codes being used for? And the answer is—many. One of the most popular use cases is—payments. And another such use case is—offering discount coupons via print promotions.
In 2017, about 1.7 Billion coupons were obtained via QR Codes.
And in 2018, an estimated 3.27 Million households obtained a coupon via a QR Code.
This QR Code usage has increased continuously since then. The coupon redemption using QR Codes has quadrupled from 1.3 billion in 2017 to 5.3 billion in 2019.
And by 2022, it is expected that over one billion mobile devices will access coupons via QR Codes. Huge, right?
Here are other ways you can use QR Codes for marketing, education, security, etc.
If you're a marketer, you know how important it is to know your target audience. So you might think—while many people are actually scanning QR Codes, what age groups do they fall under?
And the answer to this question is—predominantly between 24 to 54 years of age.
According to a 2015 study by Scanlife, here is the distribution of global QR Code scanning audience by age: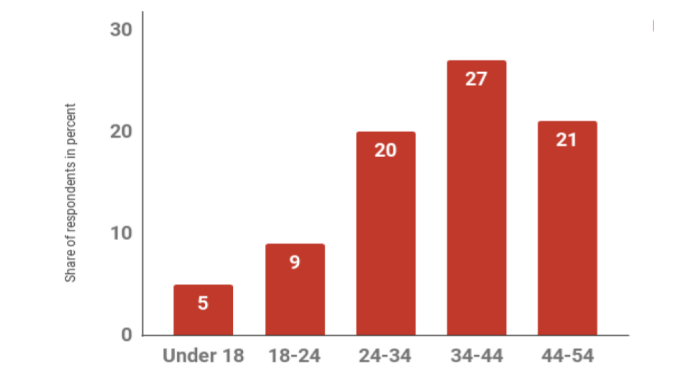 The age group with the highest percentage of people scanning QR Codes was 34-44 years.
Again note that this was in 2015. Since then apps—popular with the younger generation—such as Snapchat, Pinterest, and WeChat—have added QR Code scanning features. This shows that this age distribution in 2018 is likely to shift towards the younger generation.
QR Code Usage in Payments—China, India, Global
China
WeChat—which is predominantly used in China—made the nation obsessed with QR Codes in the last few years. The Chinese scan QR Codes to make payments, get information, authenticate themselves, avail offers, and practically every other use case.
According to CNN Tech, USD 1.65 Trillion in transactions was done via QR Codes in China in 2016.
Also, according to a 2015 survey by TNS Infratest and Google, the Chinese also lead in the percentage of people who have scanned a QR Code while shopping: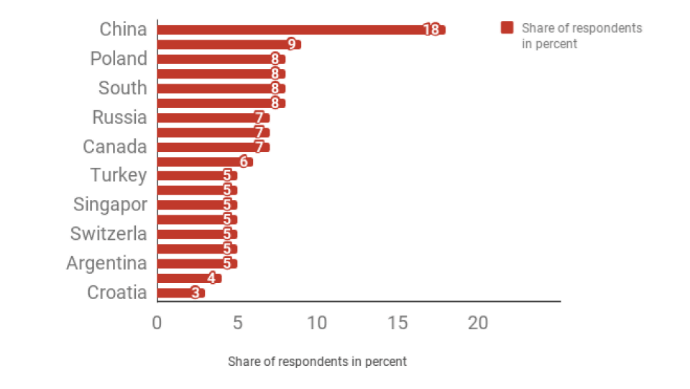 According to a study from 2018, 70% of China's population regularly uses QR Codes for payments. This is a huge number.
And it's worth mentioning that the contactless payment market is expected to hit $4.68 Trillion by 2027 which means an expansion at a CAGR of 19.8% from 2020 to 2027. As per Tencent's 2020 Pandemic report, for the first quarter itself, the economy from WeChat QR Codes shot up by 25.86% regardless of the tough macroenvironment.
India
In India as well, there has been a surge of QR Code transactions since the demonetization initiative by the Indian Government in Nov 2016. Paytm—one of the biggest payments platforms—had 6 Million merchants by the beginning of 2018. The company aimed to increase this to 10 Million by the first half of 2018. This was as reported by First Post.
According to a study, 40% of India's population regularly used QR Codes for payments in 2018. And this number has increased since then, thanks to the pandemic.
Global
Globally, 4% of all consumer transactions are via QR Codes. This is according to a survey by Kleiner Perkins Caufield & Byers, Visa Inc., and GfK.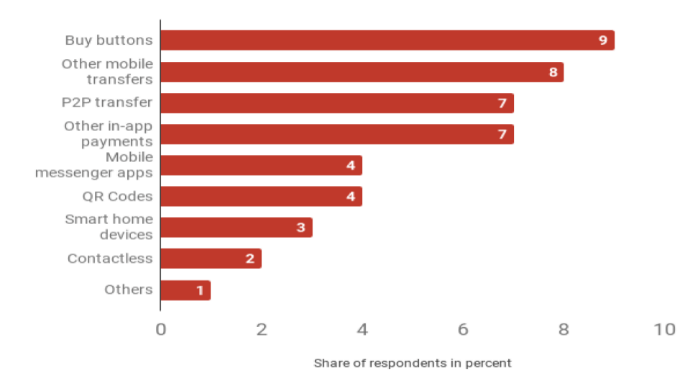 This recent increase in awareness of QR Codes via payment transactions will allow consumers to interact with QR Codes for other purposes as well—getting information, availing an offer, registering for an event, etc.
For example—street artists are now using QR Codes to get tips. Though highly talented, street artists are underpaid. So a lot of them now include QR Codes in their artwork such as graffiti that links to their cryptocurrency wallet.
Moreover, it is estimated that by 2025, 29% percent of global mobile users will be using QR Code payments. And the global QR Code transaction value will be about USD 2.7 trillion.
These QR Code statistics act as a testimony to the fact that QR Code scanning has not just become rigorously rampant but is also rapidly growing. People are more receptive to QR Codes than ever before. Thanks to high-speed internet, smartphone penetration, and the COVID.
Impact of COVID-19 on digital payments
Covid-19 has even fueled Asia's future in digital payment. According to McKinsey & Company, there is an 80/20 rise in digital payments. That means the digital user base has seen a 20% increase, where 80% has been registered during the peak of Covid-19. It is expected to remain for the long term even post-pandemic.
And not just Asia, the UK, and Europe are embracing QR Codes more than ever. Mobileiron conducted a survey across the UK and Europe to check the audience's reliance on QR Coes. It reported that 86.66% of smartphone users had scanned a QR Code at least once in their lifetime. And 36.40 % scan at least one QR Code a week.
In addition to this, 46.81% of respondents agreed that QR codes make life easier in a touchless world. But that's not where it ends. A good 38.99% of respondents want to see QR Codes used more broadly in the future.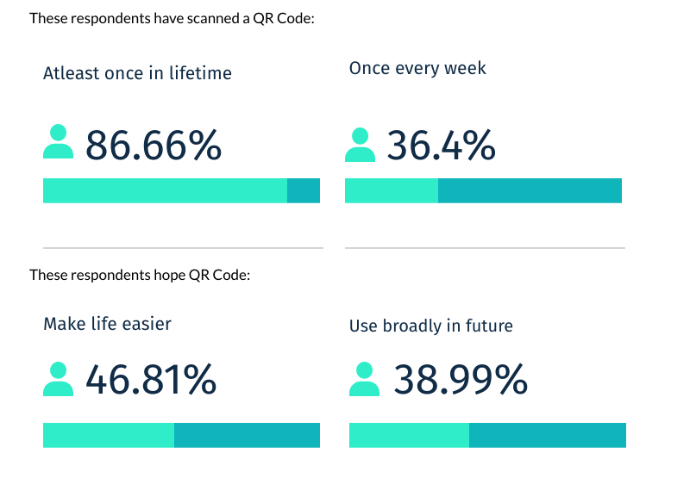 This is how QR Codes are shifting the paradigm of digitization in the UK too.
QR Code usage in other industries
1. Restaurants
QR Codes are being widely used in the restaurant business. From contactless menus to payments, QR Codes are doing it all.
In fact, according to the latest Restaurant Readiness Index report, 33% of the restaurant owners have accepted that QR Codes have enhanced their business. From ordering food to checkout, QR Codes have covered it all. In short, it is optimizing the end-to-end experience for both customers and businesses.
2. Food packaging
You probably have seen ​​QR Codes on food and beverage packaging. They help to provide complete information, suggest recipes, or even show the entire product range.
Statista conducted a study in Canada in September 2016. It was about the usage of scanned food QR codes among consumers. 57% of users had scanned a food QR Code to get specific information about the product. And 43% had scanned a food QR Code to visit the brand's website.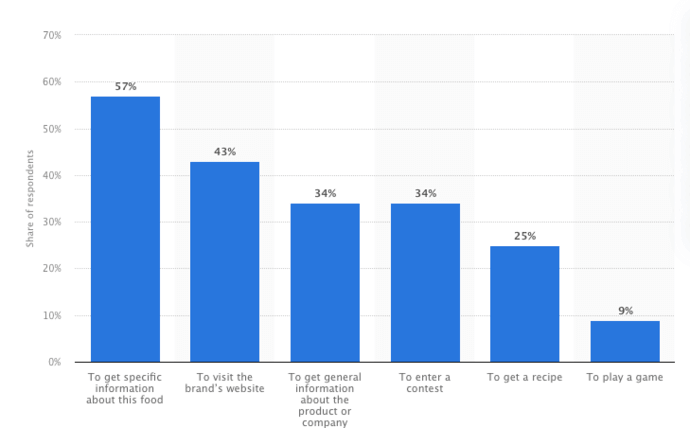 Source: Statista
Moreover, 34% of the Canadian consumers scanned a food QR Code to get information about the product or company and to enter a contest.
3. Augmented reality
Augmented Reality (AR) is an integration of real-time information such as images, videos, and text with real-world objects. It aims to make the user experience interactive and fun.
And QR Codes make it easier to access. In fact, many brands are already using it to their advantage. As per an estimate, the AR market will be worth between USD 70 billion and USD 75 billion by 2023.
Moreover, according to the Snap Consumer AR Global Report 2021, the adoption rate of AR has increased rapidly. And it is estimated that by 2025, 75% of the total global population will become frequent users of AR. The report also highlights that there has been a 94% increase in customer conversion rates thanks to the AR on products.
Since QR Codes help with easy access to AR, they are more likely to be used on a mass scale by businesses.
COVID derived adoption of QR Codes
The pandemic has led many businesses and governments to adopt QR Codes for many unique use cases. Here are some of them:
Carlsberg, a multinational brewer, has added QR Codes to various touchpoints. These can be scanned by the customers to gain points, accept event invitations, or even find details about a product
In New South Wales, Australia, the government made it compulsory to use the QR Codes in shops, and cafes for contact tracing.
The American giants such as Walmart, Starbucks, and Decathlon are using QR Codes for payments and loyalty accounts. Similarly, Nike, Home Depot, and Diesel are using them for marketing. On the other hand, Coca-Cola and Zara are trying to explore more use cases of QR Codes for their business
Restaurants across the world have replaced their paper-based menus with Menu QR Codes. Guests can simply scan them to access the menu digitally on their phone
China has recently mandated using QR Codes for health and travel. They're in fact enforcing it to turn into a global mechanism
Here's a report on more than 20 QR Code-related trends that the world has seen ever since the pandemic. Some of the hottest use cases of QR Codes is in NFTs (Non-fungible tokens) and gamification technology.
QR Code usage since COVID-19 pandemic
QR Codes have been around for more than 26 years now. And various industries had started embracing them for varied use cases before COVID emerged.
However, the pandemic has given a huge blow to QR Code usage. That's because they are being used to make a lot of processes contactless and safer.
Here's a graphical representation of search volume for QR Codes as per Google Trends:

Source: Google Trends
The statistics clearly show that people's interest in QR Codes looks pretty promising.
The increase in people's interest in QR Codes is due to their enormous utilities, especially amidst the pandemic. For example, ensuring social distancing and contactless arrangements. Here are some examples of various use cases that saw a surge:
Restaurant Menu QR Code

Source: Google Trends
The trend illustrates that the audience's interest in Restaurant Menu QR Code has gained rapid momentum from the second quarter of the year 2020.
This has been due to the rapid adoption of QR Codes into the restaurant business. After all, QR Codes help offer contactless experiences to their guests.
Hotel QR Code

Source: Google Trends
The graph above shows that the 'Hotel QR Code' has always been audience's interest. Moreover, there has been a rapid increase in the audience's interest in the "Hotel QR Code" since the second quarter of 2021.
This has been due to the use of QR Codes to ensure utmost safety in the hotel premises during the pandemic. From helping guests access the menu and avail room services easily to collecting their feedback, QR Codes are helping them do it all.
Health QR Code

Source: Google Trends
As you can see, Health QR Code has picked up a stark increase since 2021.
This again indicates an elevated interest among people. And do you know what are QR Codes being used for here? Well, they are helping store patient information, maintaining drug and equipment safety, and ensuring product authenticity.
Vaccine QR Code

Source: Google Trends
As you can see the search volume of the Vaccine QR Code has increased rapidly since the third quarter of 2021.
Since almost everyone around is concerned about the virus, getting a vaccine has become important. And various governments and private institutions are using QR Codes to relay the vaccine information and reports to the public.
Thus, by looking at this data, you can see that there has been a significant increase in QR Code usage and awareness since the pandemic.
Hence, if you're a marketer planning to run a print campaign globally or even locally, add a QR Code. Your target audience will surely scan it since QR Code usage is expected to soar further in the future.
The team of QR Code experts at Scanova compiled this report.

Do you want to create QR Codes for your print media campaigns? You must look for a QR Code generator that best suits your needs.
About Scanova:
Scanova is an easy-to-use QR Code Generator that helps marketers create, design, manage, and track QR Codes for operational and promotional use cases. Founded in 2013, the company has helped over 100,000+ businesses and marketers create QR Codes, including Amazon, Cisco, Johnson & Johnson, Intel, 7-Eleven, Aon Hewitt, and Levis.
Create a QR Code for your campaign
Create a visually-appealing and Dynamic QR Code for your print media campaign to attract more scans