Last updated: May 16, 2022
This article is a complete guide on how to make a QR Code one by one like a marketing expert. If you're looking to generate QR Codes in bulk, see Bulk QR Code Generator.
Or if you have an app and want to integrate QR Code generation with it, use QRzode generation API.
If you are just starting out with QR Codes, I would recommend first reading What is a QR Code: A Beginner's Guide. It will help you know the basics of a QR Code and why you should use one.
This 'How to make a QR Code' guide assumes you know what QR Codes are and what you want to achieve with them. After reading this article, you will be able to:
a. Generate and design QR Codes
b. Ensure that you get a high conversion rate for your campaigns
Let's get started:
1. Choose a QR Code Generator
If you Google 'QR Code generator', you will find many sites that can generate QR Codes. If your need is basic, then you can go with any one of them.
But if you are a serious marketer, you should choose a QR Code generator that best suits your needs. For instance, if you just need a QR Code for your business card, you can create a simple Vcard QR Code. At no cost. But if you need content editing or tracking features, then you will need a best QR Code generator.
Here's another example—if you want to simply share a website link, you can create a static Website URL QR Code. But if you want to share multiple URLs, you'll need to make a dynamic Website URL QR Code or a Rich Text QR Code, or a Social Media QR Code.
In summary, a good generator should be able to create a QR Code that:
a. Can have a personalized design
b. Can store the content you need – website URLs, app store links, QR Code for app link ,text, contact info, etc
c. Show content on mobile landing pages if you don't have your own website
d. Offer event tracking
e. Allow editing the encoded even after generating the QR Code
f. Can track scanning activity and show analytics
For this guide and demonstration on how to create a QR Code, we will choose the Scanova QR Code Generator. It offers multiple QR Code categories to choose from.
2. Choose target content
If you are a marketer, you need to know your business goal.
Do you want to :
Drive traffic to your website?
Increase social media following?
Share contact information for better networking?
Run a survey amongst your target audience?
No matter what your goal is, there is a QR Code for it. The most popular ones are Website URL, Vcard, and Text QR Codes.
Generally, generators provide customized options as well. For example, with Scanova, you can create as many as 23 different types of QR Codes.

Each QR Code will have a specific task for the end user. For example, Website URL will prompt the user to see a website, Simple Vcard to save contact details, and App Store links to download a mobile app.
See what each QR Codes does: QR Code Examples: Multiple types of QR Codes to engage customers.
3. Add content
If you have chosen the QR Code you want to create, the next step is straightforward. You need to add the content.
In a Website URL QR Code, add the URL of the website.

In a Social Media QR Code, add links to all your social media profiles.

Once you have added content, click on Create QR Code to proceed.
4. Choose functionality
When creating a QR Code, good QR Code generators will ask you to add functionality to your QR Codes.
a. Static QR Codes
You will get a choice to make your QR Code either 'Static' or 'Dynamic'.
A Static QR Code is the most basic form of a QR Code. It is just like a barcode but can store more information. The target data (URL, text, contact information, etc.) is encoded into the QR Code. This makes the QR Code permanent. Once generated, you cannot edit the target content.
Most free QR Code generators you come across on the web are static QR Code generators. Their only function is to store and display data when scanned.
b. Dynamic QR Codes
A Dynamic QR Code stores only URLs compared to Static QR Codes. But, with a Dynamic QR Code, you can:
a. Edit the encoded content anytime you want
b. Activate/deactivate the QR Code
c. Customize the short URL
d. Add password-protection
e. Capture leads
f. Track scanning activity and get analytics

Dynamic QR Codes encode a short URL (provided by the QR Code generator) that leads you to the target URL.
c. White labeling
Dynamic QR Codes encode a short URL that leads you to the target content. This is called a redirecting URL which is given by your service provider and has its domain name.
And if you don't want it to show any brand name other than that of your own, you'd need the Domain White Labeling feature. It allows you to use your own website domain or URL hash in the redirecting URL.
(Tip for Standard Scanova users: You can personalize the hash of this short URL. Pro users: You can mask this short URL with your own domain URL).
Marketers, who want flexibility with their campaigns, choose dynamic QR Codes over static ones.
d. Password-protection
If your QR Code is for a limited audience only, then you can password-protect the target content.
For example: If you wish to show a confidential PDF document via a QR Code, only authorized people with a password will be able to access the link.
(Tip for Standard & Pro Scanova users: You can password-protect every Dynamic QR Code)
Read more about Password Protection in QR Codes.
e. Lead generation
QR Codes even help you collect leads easily. Simply create a QR Code with the lead generation feature enabled and add it to your promotional material. As end-users scan it, they'll be prompted to fill the details as you desire.
5. Personalize design
That's right. QR Codes don't have to be just black-and-white. Good generators allow you to personalize the design of the QR Code to match your brand.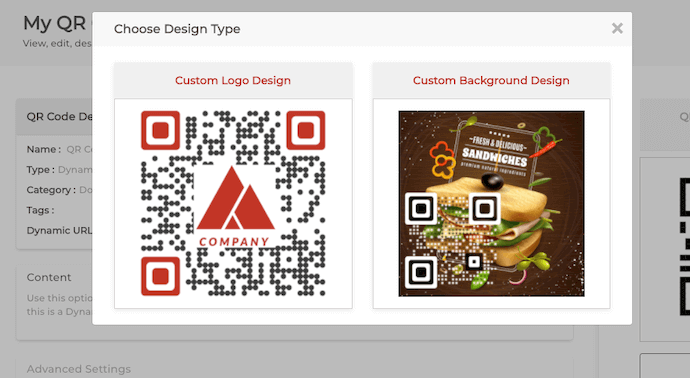 Here are all the possibilities of designing:
a. Standard Black-and-White (No Design)
This is the original design of the QR Code. Most free generators will give you this design or rather the lack of it.
b. Custom design with logo
It allows you to add a logo to the center of the QR Code. This logo can either be an image or even a text. You can also change the color and pattern of the eyes and data modules.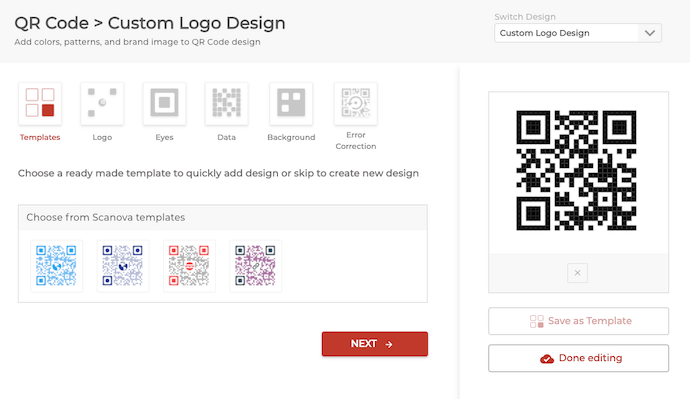 c. Custom design with background
Another way to design a QR Code is to place it over an image.

d. Custom design via image editors
QR Code generators can help you design in most cases (without a graphic designer). But, you might need a completely personalized design for your campaign. Something like this:

To design a QR Code like this, you will need to make the edits in an image editor like Photoshop, Picsart or Pixelcut (with features such as background removal). Ensure that you generate a base version in the QR Code generator. Then, export the image in vector format (SVG, PDF, EPS, PS).
It is a known fact that customized QR Codes attract 50%-200% more scans than plain black-and-white ones. Here is a list of examples where popular brands have used a custom QR Code.
Once you have finalized the design, make sure you test it before mass printing. Adding design can affect the scannability of the QR Code.
6. Download the QR Code image
If you have finalized the design, you must test the QR Code with a QR Code scanner before you download its image. Once you test the QR Code, you can proceed to download it.
But you must take note of the following:
a. Image size
Depending on your use case and print media, you will need to export the QR Code in a particular size. If your QR Code is too small, it won't scan. If it's too large, you will waste valuable space and mess up the design of your marketing material.
As a rule of thumb, the ratio of expected scanning distance (distance between the QR Code and the user) to the size of the QR Code should be 10:1.
For example, say if the expected scanning distance is 10 metres, the QR Code should be 1×1 metre in size.
Here's a detailed guide to help you calculate the minimum size of your QR Code.
b. Image format
Do you need a large QR Code? If you download your QR Code in raster format (PNG, JPEG) and scale the size, the image will pixelate. You might want to download the image in vector format. Vector images do not lose quality with increase or decrease in the size of the image.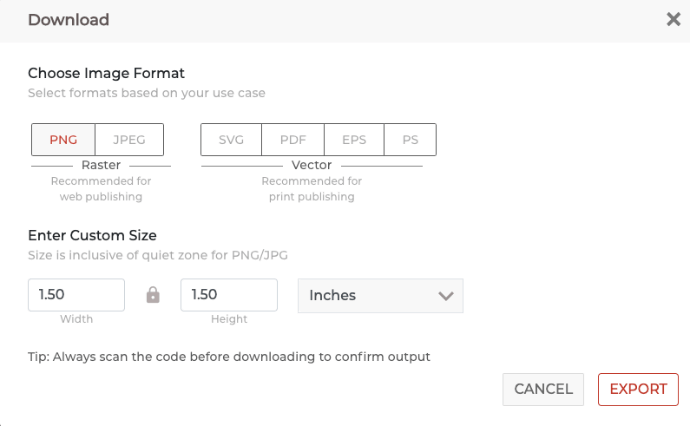 See how you can download QR Code image in EPS format.
c. Error correction
One major advantage of QR Codes over barcodes is that QR Codes have error correction. This means that even if the QR Code gets damaged (up to 30%), it will remain scannable.
This is the reason you can design QR Codes. A design is nothing but an error introduced in a QR Code.
Increase the error correction level if :
Your QR Code is susceptible to wear and tear (such as in a factory)
You are adding design
A good generator will allow you to choose between 4 levels of error correction–
Low (L)- 7% error correction
Medium (M)- 15% error correction
High (H)- 25% error correction
Very High (V)- 30% error correction
Note: With an increase in error correction, the density of data modules also increases.

(Tip for Scanova users–You can choose the error correction feature in the Custom logo design option).
Make sure that you follow ideal QR Code download practices while you download your QR Code image. These will ensure that your QR Code is scannable, trackable, and has the appropriate level of error correction.
It is important to use a good quality QR Code printer when you print your QR Codes. This ensures good quality QR Code images and hence, high scannability of your QR Codes.
7. Choose the target media
Before you learn how to make a QR Code, you need to first choose your target media i.e. where the QR Code will go. QR Codes bridge the gap between physical media and online content. In the context of marketing, a QR Code is almost always placed on printed campaign material.
a. Print Media
Depending on your next marketing campaign, this can include any of the following:

b. Digital media
You can also display QR Code images on digital media screens shown below:

If you add a QR Code on such screens, ensure the following:
a. The screen (and QR Code) is viewable and accessible to the end-consumers
b. There is ample time opportunity for a consumer to scan the QR Code, before the screen changes
It's pretty common to find QR codes on such digital displays nowadays. Some of the most common hotspots include malls, movie theatres, supermarkets, and metro stations.
c. Websites
Some marketers add QR Codes on their websites. For example, if you are designing your dental brand's website, you might want to include a QR code on there. This is a tricky one. Here is why:
a. You need to know that majority of your audience will view your website on a computer screen. If they view it on their mobile phones, they cannot do much with the QR Code, can they?
b. For website viewers on a computer, use a QR Code with content that they can access using a mobile device. For example, App Store link to download an app or Vcard to save contact details
c. If your QR Code content is a link, you might as well give the user the link instead of a QR Code
QR Codes make an excellent tool to drive traffic online when used in the right place. That's why their popularity is soaring. And one can easily find most industries using QR Codes for various use cases.
While you know how to use QR Codes, it is also important to know how not to use them in your campaigns. Make sure that your actions fetch results in your favor. So following the best QR Code practices is important while working with QR Codes.
Besides print media, here's how QR Codes can be used in digital media.
8. Manage QR Codes
After you have created, designed, downloaded, and deployed your QR Codes, you will need to manage them. Here are the possibilities:
a. Analytics
If you have created dynamic QR Codes, you can track scanning activity and get analytics. For example, if you are using Scanova, you can get the number of scans by :
Time period
Location (city/country)
Exact GPS location
Device (mobile, tablet, PC)
Browser
Operating System
Read more about QR Code Tracking and Analytics.
Moreover, they also allow you to gain insights into how your audience interacts with the encoded content after scanning it. This can be a button for sign-up or registration. This is called event tracking.
b. QR Code Management
Some QR Code generators also allow you to manage QR Codes which essentially means, you can:
Edit the content of Dynamic QR Codes
Activate/Deactivate Dynamic QR Codes
Organize QR Codes by assigning them tags
Edit design and download QR Code images
In fact, some QR Code generators also allow you to add your teammates as users to better manage your campaigns. You can assign different roles to them based on your desired level of access. Read more about QR Code Management.
FAQs users ask while learning how to make a QR Code
After you've seen how to make a QR Code, you might have several questions in mind. Mentioned below are the most common ones users often ask:
1. What should I consider before printing the QT Code?
If you've created the QR code for use on print media, make sure you export it in print-friendly formats. For example, SVG, PDF, or EPS. This is important because QR Codes in these formats don't pixelate even after any resizing done during design.
Hence, your QR Codes will remain perfectly scannable for the audience. After all, none wants a QR Code that's only good to look at but just doesn't really work.
2. How to use a QR Code correctly?
There are a couple of best practices you must adhere to while working with QR Codes. For example, always make sure that your QR Code has a high contrast with the background. This is important for its scannability.
Similarly, make sure you export the QR Code in high-resolution formats as explained above.
Further, think if your QR Code has content that'll need an internet connection. If so, place your QR Code at spots with good network connectivity, Otherwise, your target audience will not really be able to see the stored content.
For more such best practices, readers can refer to the next section on QR Code best practices.
3. How to create a professional QR Code?
To create a professional QR Code, you'll need an advanced QR Code generator. Wondering what will it do? Well, a lot.
Basic QR Code generators only help you add the content and create a QR Code. This QR Code only serves a minimal purpose. It just takes people to the encoded content.
But working professionals usually need a lot more. For example, most users like their QR Codes to be editable in nature. That means they must be able to edit the content anytime after creating the QR Code. These are called dynamic QR Codes and are offered by professional service providers.
In fact, many marketers also use the scan tracking feature. It helps them know how many scan the QR Code received, the location of scans, time, etc.
All these insights are then used to optimize the campaigns in the future too. Hence, when learning how to make a QR Code, also be wise to pick up a professional service provider.
4. Is it expensive to create a QR Code?
QR Codes can be both free and paid. As explained above, if you want a basic QR Code that just stores the target content with no editability or additional features, you can get one for free.
But if you want one with advanced features, you'll have to go for a professional service provider. And such service providers often charge a subscription fee.
5. Is each QR Code unique?
Yes, each QR Code you create is unique. That means no two QR Codes will have the same pattern. This is decided not only by the information stored in it but also by the way it is made.
Hence, the QR Code you create for two distinct purposes will always be different.
6. Should I make my QR Code look attractive?
Design customization is a lucrative feature of QR Codes. You can do it by:
Adding your brand colors to the data modules and eyes of the QR Code
Changing the background color or making it transparent
Using your brand or company's logo as QR Code's logo or background
Changing the pattern of data modules (matrix enclosed by the three large eyes of the QR Code)
Changing the pattern of QR Codes eyes (three large squares at the corners of the QR Code)
Customizing QR Code design makes it look branded to your business. Hence, it increases and helps with your overall branding effort.
In fact, marketers use custom-designed QR Codes for other purposes. Such QR Codes are known for getting much more scans compared to their black-and-white counterparts. That means better engagement. And that's just what marketers want.
To understand on how to make a QR Code with design customization, refer to this detailed guide.
How to make a QR Code: Best Practices
Now you know how to make a QR Code like a pro. Let's see how you can use them like one too:
1. Add an appropriate CTA
CTA translates to a 'Call-to-action' statement. It is a small instruction that tells the users what they need to do. And this kind of small text nudges them to take the required action.
It could be anything such as 'Scan here to follow me' or 'Scan here to visit our Website'.
Such nudges not only tell the audience what to do but also what to expect after they take the required action.
2. Add a design to the QR Code
If you are planning to use QR Codes for promotions, you should consider adding design to them. That's because they are visually more appealing and can help attract the audience's attention.
As a matter of fact, custom QR Codes attract 50%-200% more scans than the generic black-and-white ones.
3. Test scan the QR Code
It is always advisable to test scan the QR Code before putting them out for your target audience.
And to test the QR Code, make sure you do it across as many different devices as possible. For example, across different Android phones, iOS phones, tablets, etc.
Successful scans in each scenario will make sure the QR Code shall work fine. Also, make sure you test the QR Code in ambient light. It helps the scanners decode each element of the QR Code with ease.
4. Choose an optimal printing format
To use the QR Code on print media creatives, it's recommended to download it in high-resolution vector formats such as SVG, EPS, and PDF. These formats ensure that the QR Code doesn't get pixelated no matter whether you zoom in or zoom out.
5. Ensure a high contrast
Adding design to the QR Code to make it look attractive is one thing. But making sure that it has a high contrast with the background is another.
It's very important for a dark-colored QR code to have a light-colored background. It helps the scanners differentiate between the two and scan the QR Code in no time.
Similarly, a light-colored QR Code should have a dark-colored background. Although, you must avoid doing it because some scanners find it hard to successfully scan a light QR Code against a dark background.
So the bottom line, is that your QR Code must always have a high contrast with the background for good scannability.
If you are still reading, congratulations. You now have all the answers to how to make a QR Code.

But in addition to technical knowledge, some practical knowledge is necessary. Here is your next step-